The Battle Back Programme
What is Battle Back?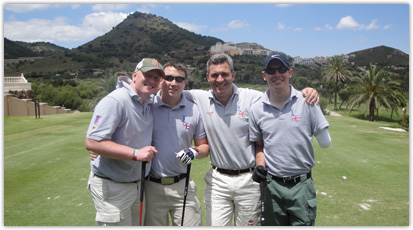 The Battle Back programme is a military initiative designed to introduce injured service personnel to sports and adventurous training activities thus returning them to a more normal active lifestyle and aiding in their physical and psychological rehabilitation.
The Battle Back Golf programme was founded in 2009 and is run by Lt Col Tristan Crew and Instructional Officer Zeno Gomes. The use of sports and outdoor activities has a proven track record to aid successful physical and psychological rehabilitation, providing the foundation for the development of a positive self image and outlook on life. Battle Back golf is no exception, proving highly successful in enhancing self confidence and morale.
The programme aims to provide equipment, coaching and golfing opportunities for the cohort of golfers which has now exceeded 100 in number. The focus of the programme is on competitive golf and the preparation for competition. Coaching is delivered through a number of differing methods;
A nationwide network of 70 PGA pros who have generous donated their time and resources to coach Battle Back golfers.
Numerous residential coaching courses to provide intensive packages of training.
Weekly range sessions for the golfers attending Headley Court.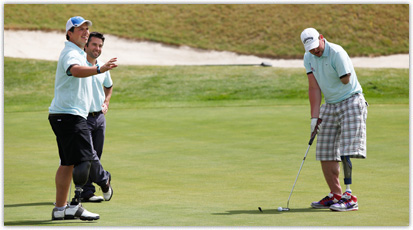 The ability to compete is an aspect of life that is less accessible for the seriously injured. The Battle Back Golf programme delivers competitive opportunities through; arranged matches against clubs and societies, competing in charity golf days, the annual Battle Back Championships and most importantly the annual "Ryder Cup style" competition against the American military wounded where Battle Back and the Wounded Warrior Project play for the Capt Pietsch Trophy (Courage Cup).
The success and growth of Battle Back Golf is attributable to three main factors:
Golf is already adapted allowing golfers with relatively low physicality to take part.
The handicap system that is unique to golf allows competitiveness as all levels.
The exceptional support of the golfing community. Battle Back golf receives donations of funds, equipment, coaching and golfing experiences with the vast majority of opportunities being offered free of charge.
The physical and psychological benefits of golf for this population are significant.
"Often over looked are the psychological advantages of Golf" say Lt Col Tristan Crew. "It really allows them to develop, not only through rebuilding self esteem and confidence but also the ability to share experiences and relax with individuals who are all in the same boat."
Why the scheme has helped
Physical Benefits
The majority of BB golfers have ambulatory problems and the uneven terrain of golf courses assists in developing a patient strength, coordination and stamina whilst supporting all aspects of gait re-education.
Psychological Benefits
The cognitive requirements of keeping score and planning a route around the course test and therefore improve psychological output. Also the confidence and self esteem benefits of achieving a goal related task are marked. This alongside the stress relieving qualities of golf and a conduit to discuss problems with other servicemen with similar issues is invaluable.
The next steps
The development of BB golf has been marked over the past 2 years. However BB is now finding that a number of these golfers are returning to their new careers within their Units and access to golf is more limited.
Golfers are attending BB golf events without having played or practiced in the interim due to either courses being prohibitively expensive or the lack of confidence to approach their local course. This is where the Golf4heroes Programme comes in.
If you're able to sign your club up to offer at least one complimentary green fee a week, please click here