Sign up as a supporter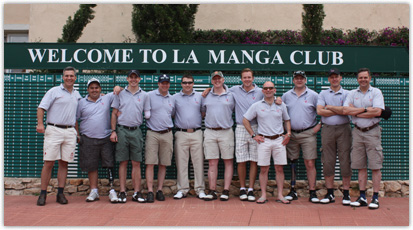 If you work for a golf club, you can help us by signing your club up as a supporter. Read on to find out what we ask of our supporters, and how you can help.
What do we ask golf courses to commit to?
Once signed up to the golf4heroes scheme, you will be listed on the website, written about by Yourgolftravel.com and thanked by the Telegraph in a follow up piece on the success of the team.
Battle Back golfer up to two complimentary green fees in any given week as long as availability permits. This would be expected to be at off peak times but will be at your discretion. There are currently 52 golfers nationwide enlisted on the Battle Back golf programme as of 1st July 2012 compiled of injured servicemen from the army, RAF and navy.
We simply require details of your point of contact to order in order for somebody from Yourgolftravel.com to be able to book in the teetimes and send confirmations. You will also be sent a plaque for signing up to the initiative.
We fully appreciate that these courtesy roaming rights maybe at off peak times in the week or weekends but in order to be able to support Battle Back golf and our servicemens rehabilitation we must provide these opportunities for Britains bravest golfers.
On behalf of the Battle back Golf Programme Golf4Heroes.com is now asking golf courses around the country and abroad for their support BB Golf and grant free access to their facilities to these golfers. The soldiers will book tee times through the golf course pro shops and will present their Battle Back Golf card and some form of identification to secure their booking. Injured servicemen on the scheme will be able to log into the golf4heroes website where a directory of the courses who support the programme and they will be able to access golf near their home or work location on a regular basis. We believe the scheme is a great way for the golfing community to support the continued rehabilitation of our troops by keeping them on the fairways.